Petco Hours:
Meet & Greet Cats, Saturday 11-2 PM.
Shelter Adoption Hours:
Thurs 7-9 PM;
Sunday 1-4 PM.

What's New

We have kittens available for adoption ... visit them and fill out a form during our adoption hours on Thursday or Sunday!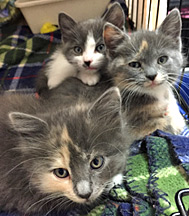 Milford Humane Society has been chosen by Especially for Pets in Medway to partner in their program called Especially for Pets in the Community: The Adoption Initiative. Details

Some of the most wonderful cats in the world are in our Special Needs room and would love a home ... ask about them!

Please read our 2014 Holiday Message!

Please visit our Affliates page for links to Amazon, Barnes & Noble and other shopping sites. Milford Humane gets a percentage of each purchase you make via those links! Thank you! See Affilates >

Interested in volunteering, or getting involved with Milford Humane in another capacity? There are many ways to contribute to the well-being of the cats and the shelter's operation. We need and welcome your help! More Info